Liquid Force Envy Kitesurfing Kite 2015
Building on five years of refinement, the high-performance 2015 Liquid Force ENVY retains its user-friendly feel and do-it-all response, while delivering a variety of substantial enhancements.

Design details
ULTIMATE ALL-TERRAIN KITE
DELTA-HYBRID PROFILE

3-STRUT DESIGN

FAST TURNING
Sizes: 5m, 6m, 7m, 8m, 9m, 10.5m, 12m, 13.5m, 15m
Featuring smaller diameter struts, a smaller leading edge, and new lightweight materials, this year's kite weighs a whopping 1⁄4 less than the 2014 model. Lighter and more efficient than ever, the ENVY turns quicker and moves faster through the window, offering nimble response and amplified high-wind performance. Delivering a crisper feel and more of a direct connection to the kite, the 2015 ENVY uses a lower profile pulley-less bridle, the Bridge Bridle, which reduces drag and increases efficiency.
Engineered with added sweep in the wingtips, the ENVY is easier to relaunch than ever. This refinement also produces a silky smooth power band for seamless power/depower and more definitive kite control. Without sacrificing strength or durability, the ENVY uses lightweight marcloth material in the Layered Frame, which reduces the need for heavy Dacron. This creates a graduated connection between the rip-stop and Dacron materials, resulting in increased performance, strength, durability, and longevity.
While the ENVY evolved tremendously this year, we balanced it all out by changing the arch of the struts (the LE-to-TE profile) to ensure that it retained the familiar feel that makes it our well-recognized flagship kite.
Tech specs
Max Flow Inflation
Inflating your kite should be easy, and with the exclusive Liquid Force Max Flow valve and pump system, it is! The widemouthed setup is nearly effortless and 40 percent faster.
One Pump System
Single point inflation system will inflate and deflate your struts automatically.
0.1MM TPU Bladders
Strongest bladder material available today.
EVA Scuff Guards
LF's EVA scuff guards protect the LE against abrasion and impact.
Synergy Strut
The LF Synergy Strut construction adds extra rigidity to the canopy profile adding strength and an ultra responsive direct feel.
Layered Frame
LF Layered Frame construction gives added protection in key areas that are prone to canopy stress, reducing canopy tearing during harsh impacts.
DURA-X Canopy
Double laminated, high strength to weight ration rip-stop canopy material.
High Sweep Wingtips
Higher sweep means increased turning speed, bar feedback, and effortless re-launch even in the lightest wind velocity.
LE English Seams
Clean, inter locked, fray free design that creates a strong bond.
Sandwich Assembly
This layered Polytape construction assembly aids in the prevention of canopy tears in critical load bearing points.
Tapered LE Tips
This LE wingtip design, combined with the LF tape batten prevents accidental bridle wraps.
Rider Adjustability
Turning speed, bar pressure and bar input response can all be adjusted at the wing tip and on the pigtails.
Product Review
Rider/Reviewer: Charlie Kernan
This year has been the year of the kite with me taking every opportunity I can to get out on the water. I have tried loads of kites this year so feel I have a good understanding off what I like and what I don't! I had the pleasure of testing the 2015 Liquid Force Envy recently on sunny afternoon at the beginning of May. When I went out I was considering taking a big 17M but ended up taking the 12M Liquid Force Envy. From the start I was impressed with the speed of inflation due to the Max flow System.
This s one powerful beast! I weigh in excess of 100KG and the Envy produced the raw power to get me up and going in these moderate conditions.
When the wind increased this was when the fun started. The kite jumps well, when I say well, it jumps WELL! In many kites when you pull the par in the kite can deform and loose shape but the Envy kept its shape and Boosted! The hang time was fantastic too. I found the kite nice and quick with good depower in the gusts. The combination of good bar pressure, bossing ability and hang time makes this a stand out kite for me in 2015. I would recommend this kite for all levels of ability, the kite re-launched easily with good depower so a person new to the sport could use it but an experienced rider would love it too. Well done Liquid Force on producing a cracking bit of kit with the Liquid Force Envy 2015. I have to say the proof is in the pudding, so impressed I just got myself a set!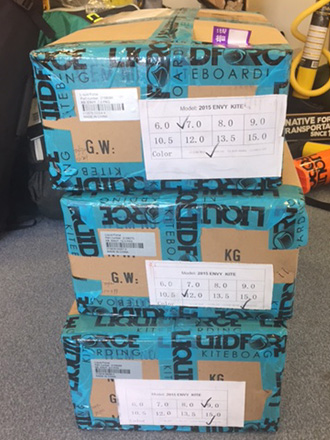 Online secure ordering
Price match
Returns within 30 days
Hotline 01202 763675