WAKEBOARDING GETTING STARTED GUIDE
What is wakeboarding?
Wakeboarding is an evolution of waterskiing - instead of two skis, you are riding a board across the water, being towed by a boat or behind a cable. As a beginner, you can wakeboard on any stretch of water as long as it is suitable for a boat or cable. Wakeboarding is usually done on lakes or in the sea. You have a sideways stance on a wakeboard, it looks a little like snowboarding on the water. Wakeboarding is popular because it is great fun, sociable and a relatively easy watersport to pick up - once you are up and riding you can quickly learn new tricks.
What is the difference between cable wakeboarding and boat wakeboarding?
Boat wakeboarding - you are being towed behind a boat with a wake, at around 22 knots. You are usually the only one riding behind the boat, but you can ride with a friend when you have practiced a little. The idea is that you use the boat's wake for tricks, if you fall off the boat will usually loop around and pick you up. Wakeboard schools are all over the place and are usually based on a lake with a wakeboard boat. Sets can be around 20 mins and cost around £25. Alternatively, you can always wakeboard on a friend's boat, if someone has a board and a rope.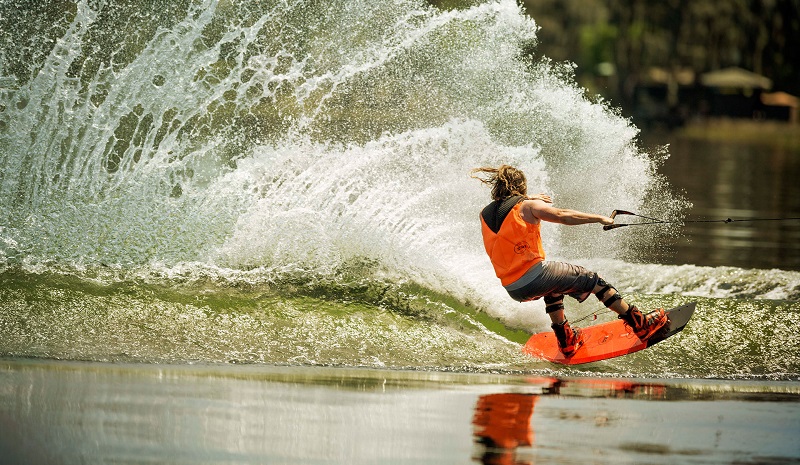 Cable Wakeboarding - the wakeboarding is the same but the method of being pulled along is different. On cable wakeboarding instead of being pulled by a boat there is an overhead cable that goes around the lake, this means that there is no wake for learning tricks so it feels very different. There are a few riders on the cable at once, a number of handles with space between each. When you fall off then you swim to the edge of the lake and walk back to the launching dock where you can start again. Cable parks often have obstacles, kickers and sliders, which the wakeboarders use to perform tricks - this replaces the wake in a way but the tricks can be very different. Cable sets are around £25 for an hour of riding, £30 for two if you have the stamina!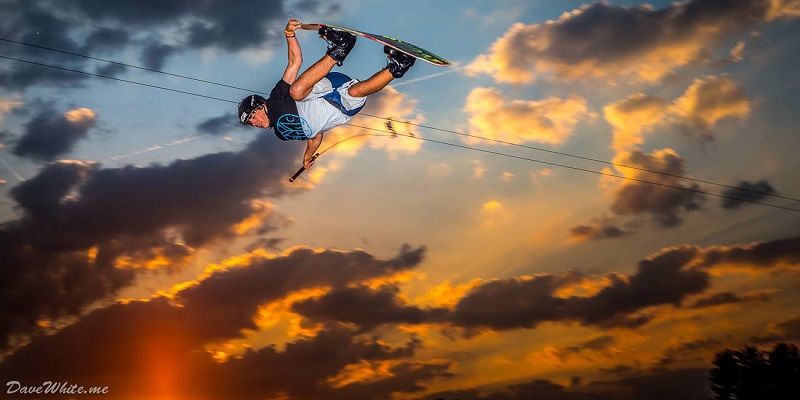 Will wakeboarding help with any other boardsports?
Wakeboarding is perfect for practicing your board skills. It is a really popular sport with surfers, snowboarders and kitesurfers - always a great way to develop your board skills out of season or if the wind/waves aren't up to scratch.
Many kitesurfers find that wakeboarding on a cable is very similar feeling to kitesurfing, sharing the same tricks and riding styles - this makes wakeboarding a great sport to help your kitesurfing progression.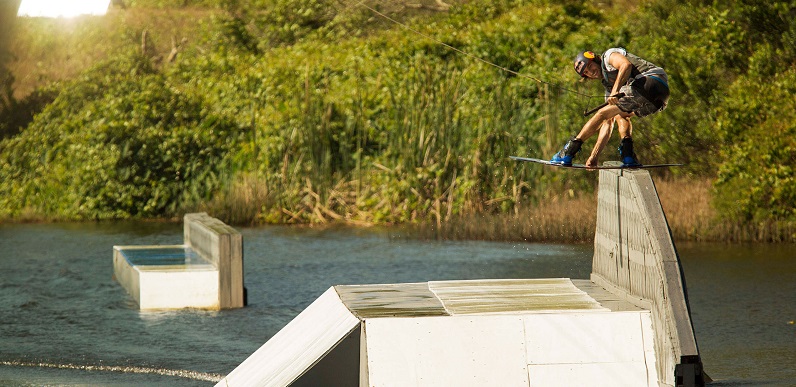 Do I need to take wakeboard lessons?
Lessons tend to be quite quick, a few tips about how to get up on the board and it's down to you. You should be up and riding in no time, wobbly at first, but that is to be expected. Often when you are riding boat there is an instructor or you can get a few handy tips from your friends. At the cable park you may need to watch a video and start on a kneeboard, just to get the hang of the corners. You can also get a head start on the cable by having a training session on a System 2.0, this is like a mini cable, it is just you riding and an instructor to get you up and going.​
When do I need to buy my first wakeboarding set up?
When you have decided you like wakeboarding and want to do it more regularly it is definitely worth getting your own set up together. Most boards that you can hire are very basic and will quickly affect your progression. At cable parks you need your own board to try any of the obstacles and paying to hire a board every time adds up. If you think you are going to get your own kit eventually you should do it at the start - before you spend too much on kit hire.
My first wakeboard set up - what do I need?
Essentials
Non-essential

Boardbags
​Not essential but definitely a handy way to keep your kit together, one big bag to take out of the car and store all your kit in at home. Board bags come in all shapes and sizes - if you plan to travel then wheels are a lifesaver, if it's just for heading to the cable park then something simple like a Kite/Wave Boardbag will work perfectly.
Poncho
​There are usually changing rooms at cable parks or wakeboarding parks, even warm showers if you are lucky. If you are riding on a friends boat that is a different story, if you are the first to ride you may be sitting in a boat, waiting for the rest of your friends to have a go - the wind chill can be dramatically reduced with a snuggly poncho.

Luxury

WOO
​The WOO is perfect for anyone with a competitive streak. This little gadget can track your jumps and tricks, keeping a record of your progress and performance.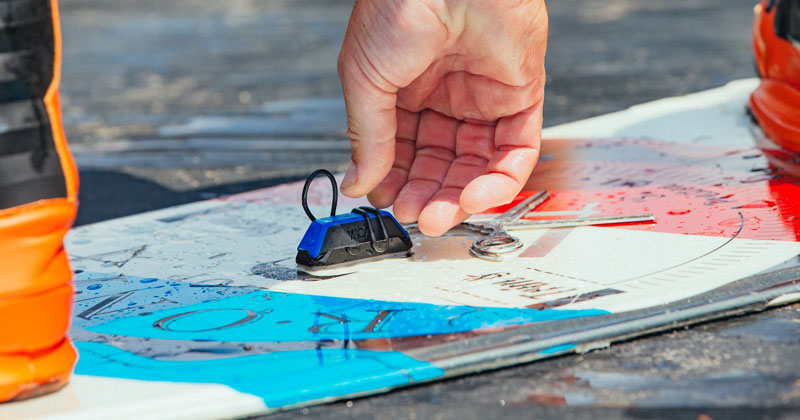 Need a little help?
The team at King of Watersports have been wakeboarding behind boat and riding cable for years, some of them are actually pretty skilled wakeboarders! They know all the latest and greatest boards and bindings to get you up and riding. We want you to love the sport and enjoy your time on the water as much as we do - give us a bell if you need a helping hand 01202 763 675 or pop Alex or Ollie an email on [email protected]