Cabrinha Fireball Upgrade Kit 2017
The 2017 Cabrinha Fireball Upgrade Kit includes everything you need to make your 2015 & 2016 Cabrinha control bar compatible with the Fireball.

Design details
INTRODUCING FIREBALL
Fireball launches kitesurfing into a new era of performance and simplicity in design. Fireball is the first kite connection system that is purpose built for kitesurfing from the ground up. Fireball's unique design harnesses the specific forces and movements of kiteboarding, and combines them with ergonomic form factors to create a kite connection which is a seamless extension of your body.
Fireball is a sleek new approach to one of the most important points in kitesurfing… the point where the power of the kite meets the power of your body. This exact point needs to be the most secure, yet fluid, part of the control system. It is right here where Fireball delivers an innovative connection system for the next generation of kitesurfing.
Features:
Focuses the pull of the kite directly to your core for ultimate control

Non-binding, non-restrictive for fluid motion

Integrated natural swivel

Interactive non-binding auto locking gate

Ridiculously easy 1X security activation and reconnection.

Cabrinha Fireball Connection System
CLOSEST TO THE CORE
Fireball's ball and socket interface is a semicircular fitting that brings the pivot point of the connection extremely close to your body. Fireball's intelligent low profile design keeps the spreader bar from rotating into your body when the pull of the kite comes from overhead.

A traditional spreader bar hook leverages the bar against your body because the pivot point of a hook is positioned further away from your core. The Fireball socket is much closer to your core than a traditional hook, thus keeping the spreader bar from rotating into your body.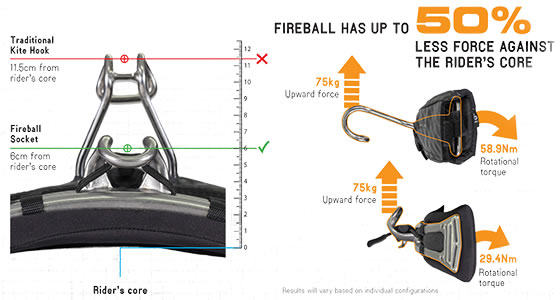 ROTATIONAL & NON BINDING
Fireball is a non binding system which allows free, unrestricted movement no matter where the kite is located in the window. At the core of Fireball's design is a rotating ball and socket connection, which seamlessly translates your body movements into an immediate kite reaction with a smooth, frictionless motion.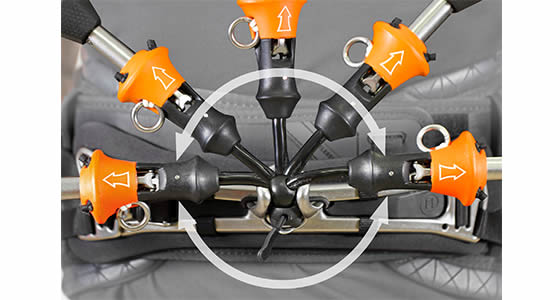 A traditional hook and loop can be binding when the kite flies from side to side. It can be made even worse when a security pin is inserted.
And the best part is that with the Fireball system you will never be able to foul-hook.
AUTOLOCK™ INTERFACE
One of the most unique things about Fireball is its intelligent locking gate. Unlike a loop and security pin system, the locking gate is positioned on the spreader bar. This means that it is available anytime you need it. It can be locked and unlocked on the fly.

The secure gate design automatically seats itself into position and provides a friction free method to keep Fireball engaged into the socket.

Online secure ordering
Price match
Returns within 30 days
Hotline 01202 763675