Xensr AIR - 3D Sports Visualiser
The Xensr AIR is the world's most advanced motion tracking and 3D visualisation device available to athletes.

Design details
YOUR SPORTS. YOUR MOVES.
The World's most advanced 3D motion sensor

Capture Every Epic Moment
The Xensr AIR combines high resolution GPS with the most robust inertial sensors to measure all of an athlete's performance at up to 100 times per second.
Instant Results
With TruMotion™ processing, your data is available to you in Realtime via Bluetooth to the Xensr App.
Beginners to Professionals
The Xensr AIR can be used by anyone with ease; novices and advanced athletes alike.
Your Sports
The Xensr AIR supports 25+ different sports and activities including windsurfing, kiteboarding, surfing, skiing, mountain biking, snowboarding, SUP, and more.
Stats that matter
Jump height, distance traveled in air, airtime, impact, spin rotation, angles, speed, elevation, location, runs/laps, and more. The Xensr AIR provides all the analytics that riders want to know.
Versatile and Rugged
At 0.5oz and bite sized, the Xensr AIR supports multiple sport applications and operates in extreme environments.
WHAT'S IN THE BOX
XensrAIR

Xensr Deck Mount

XensrDock + USB Cable

Get Started Guide

Tech specs
ENHANCING THE EXPERIENCE
Integrating useful data into the world of action sports.
Attach
Secure the AIR with the included Flat Mount. Use the Xensr AIR on multiple rides with additional flat mounts to quickly switch from sport to sport.
Ride
Hit the record button on the AIR or in the App, and the the AIR will do the rest, transforming motion into meaningful data in real-time.
Visualise
View stats instantly via the Xensr App on iOS and Android. Track stars over time and watch 3D session visualisation at home on my.xensr.com.

XENSR PACKAGE
Xensr hardware devices, software platforms, and services are simple to use and offer athletes an enhanced sporting experience through state-of-the-art intuitive and interactive tools both in realtime and post session.
Xensr AIR
Wireless device capable of withstanding the harshest elements and most extreme amounts of force to reliably and accurately track the 3D pathway of athletes in real time.

A full day of sessions can be stored on the AIR for viewing later on a Xensr supported device.

Xensr App
View session summaries at your fingertips with an intuitive user interface that displays jump height, jump distance, airtime, rotations, speed, location, runs/laps, and more.

See your performance in realtime on-location with TruMotion streaming data.

Multi-Sport support for 25 sports and counting including windsurfing, kiteboarding, surfing, skiing, mountain biking, snowboarding and SUP.

Online Profile
Review past sessions, and monitor progress all in great detail with your profile on my.xensr.com

Relive sessions and see your performance with the 3D visualizer to understand your ride like never before and improve techniques.

See personal bests, averages, session maps, jump stats, and more.

Share your best. streamlined posting to social media and dish out challenges to friends.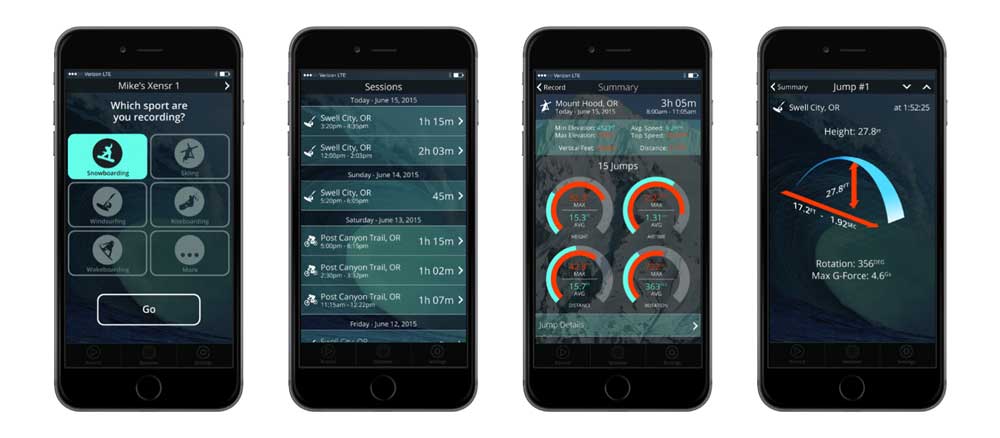 Online secure ordering
Price match
Returns within 30 days
Hotline 01202 763675