O'NEILL WETSUIT TECHNOLOGY
For more than 65 years now the O'Neill name has been synonymous with wetsuit performance, durability and style. O'Neill has earned its place as the number one wetsuit brand in the world. O'Neill continues to make the most technically advanced wetsuits.
O'Neill travels the world for the best neoprene and innovative materials available. Materials are manufactured to O'Neill's specifications in order to have the right combination of warmth, strength, flexibility and durability. O'Neill inspects each sheet of neoprene and rejects it if below standard. All O'Neill neoprene is limestone based. The current neoprenes in their line are as follows:
| | |
| --- | --- |
| | TECHNOBUTTER 3: NEW O'NEILL EXCLUSIVE NEOPRENE: TB3 is the most advanced neoprene ever developed. The new ENVY RUBBER CORE, TB3 JERSEY on the exterior and the TB3X INTERIOR JERSEY boasts a 20% lighter formula with 30% less water absorptions. Quick dry properties offer rapid drying time (RDT). TECHNOBUTTER 3 lighweight gooey formula allows you to surf longer and feel lighter than ever before. Stretch factor: 160-180% layer of innovation. |
| | TB3X NEOPRENE: The gummiest gooey neoprene ever developed. ENVY FOAM RUBBER CORE, TB3X EXTERIOR JERSEY and TB3X INTERIOR JERSEY combine to make lightest most flexible material available. Feel the difference. Another O'Neill exclusive neoprene. Stretch factor 180-220% |
| | TECHNOBUTTER AIR FIREWALL: NEW EXCLUSIVE FOR O'NEILL: Now available in Single Lined (SL) and Double Lined (DL). Identical features to TechnoButter with the addition of air technology. TechnoButter Air technology is a complex 3D structure of neoprene and trapped air. Think double pane windows, more air = more warmth. The all new TechnoButter Firewall inner lining is 20% lighter and has 30% less water absorption resulting in the warmest, lightest and fastest drying material available. Stretch factor: 140% |
| | ULTRAFLEX DS: High-performance super-stretch neoprene with a durable outer skin that resists velcro pulls and snags. Stretch factor: 150% |
| | FLUIDFLEX 2: A new category of high stretch neoprene with an ultra soft hand and insane affordability. Stretch factor: 100% |
| | FLUID FOAM: Highly durable neoprene that resists abrasion and compression with a supple feel and good stretch. Stretch factor: 75% |
| | FIREWALL: O'Neill offers three unique water wicking thermal jerseys. TECHNOBUTTER FIREWALL, CARBON FIREWALL AND FLUIDFLEX™ FIREWALL. These thermal insulating materials wick away moisture, increase warmth and feel good. Stretch factor: 100% |

NEOPRENE LININGS:
DOUBLE LINED (DL) Double Lined neoprene has a flexible jersey material laminated to both sides creating a soft durable surface. The different types of jersey is what determines the amount of stretch and durability different DL neoprene will have.
SINGLE LINED (SL) SMOOTHY Single lined neoprene has a flexible jersey material laminated to one side and smooth skin surface on the other side which allows maximum water run off and thus reduces wind chill and surface heat loss.

THICKNESS:
The thickness of the neoprene utilized in a wetsuit will determine its warmth and flexibility. A thick wetsuit provides a lot of insulation but can inhibit flexibility. A thin wetsuit will be very flexible but can inhibit insulation. The trick is to get the right combination of warmth and flexibility so the wetsuit will not only keep you warm, but provide maximum flexibility.

MULTI-COMPOSITE DESIGN:
O'Neill incorporates uniquely formulated neoprenes to meet specific product needs. For example, UltraFlex DS or TechnoButter super-stretch is used in strategic areas to increase flexibility performance and decrease fatigue. Firewall jersey is used on the interior to increase warmth where needed most, with a Smooth Skin (SL) exterior to reduce wind-chill on the chest and back. Some wetsuits may utilize four or more types of neoprene in order to meet specific design needs.
ENTRYS, CLOSURES AND ZIPPERS
O'NEILL Z.E.N. ZIP SYSTEM
O'Neill's innovative patented Z.E.N. ZIP (back) Entry system is the most imitated entry/ closure system in the world. This free floating exterior mini zip allows for a zipperless feel and stops water from entering the wetsuit. (U.S. Patent 5,898,934)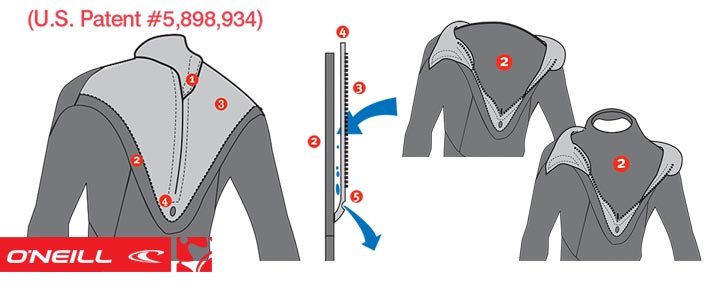 1. Z.E.N. COLLAR:
Below the neck zipper collar maximizes comfort and minimizes injury.
2. THE BARRIER:
Blocks out water and facilitates our patented floating zipper design.
3. SUPER SHORT ZIP:
A minimal length zipper that maximizes flexibility and maintains ease of entry/exit.
4. FLOATING ZIPPER PANEL:
This patent-protected design features a free-floating zipper panel providing unmatched flexibility and seal.
5. DRAIN HOLE:
Drain holes guide out any water that enters the zipper panel.
O'NEILL F.U.Z.E. ZIP SYSTEM
O'Neill's exclusive Front Upper Zip Entry (chest) system offers a fresh alternative. Using the same free floating zipper technology as our patented Z.E.N. ZIP closure. The F.U.Z.E. closure keeps you dry and allows unrestricted flexibility.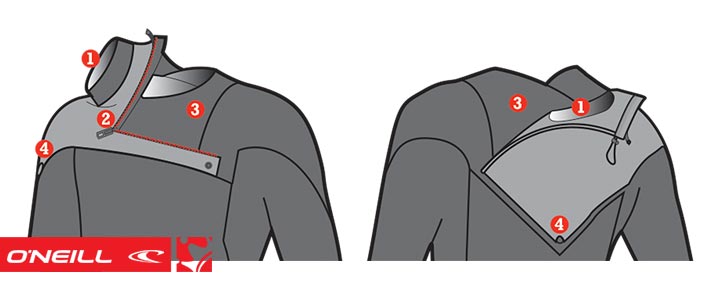 1. GLIDESKIN SEAL NECK:
A super dry neck seal that maximizes comfort and keeps water out.
2. F.U.Z.E. ENTRY:
A super short Front Upper Zip Entry that is free floating like our patented Z.E.N. Zip Entry System. Very dry and flexible.
3. 360˚ INNER BARRIER:
Blocks out water.
4. DRAIN HOLES:
Dual drain holes guide out any water that enters the 360˚ Barrier via the back and arm.
MUTANT SYSTEM/MODULAR CLOSURE SYSTEM
This innovative pullover mini zip system allows the user to mutate the wetsuit from a non-hooded suit to a hooded suit in seconds. The two small zippers free float on the exterior of the suit. The detachable zipper system allows you to customize the fit of your suit with different size and thickness closure options. The removable system also lets you replace old closures with new ones. Another O'Neill first.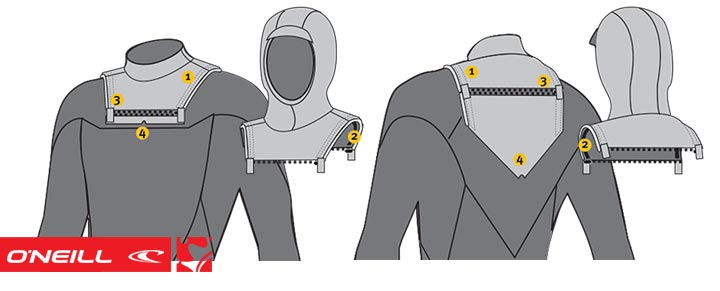 1. MODULAR CLOSURE:
Interchangeable crew neck and hood.
2. PLASMA SEALS:
Fluid Seam bands on shoulder lining and inside of closure prevent over expansion and seal out water.
3. FLOATING ZIPPER SYSTEM:
Ergonomically positioned zipper panels maximize flexibility by allowing the zippers to float as an unrestricted external layer.
4. DRAIN HOLES:
Front and rear drain holes guide out any water that enters.